SEO Strategy is Crucial to Your Company's Success
Your website needs SEO for the same reason a brick-and-mortar location needs a sign. Search Engine Optimization is your company's growth tactic to be seen on Google, Yahoo, Bing, or any other search engine your potential customers are using to find solutions.
"According to HubSpot, 75% of people never scroll past the first page of search engines. "
Implementing a strategy to help your company's website rank on the first page of relevant searches is one of the BEST long-term growth strategies. Getting your content on the first two pages helps bring valuable traffic to your website. While there are paid options to appear in Ad Spots at the top of the first page, if you find yourself on the front page for a highly specific search phrase, you'll benefit from organic traffic headed to your website. Organic is an important word for business owners… Organic online traffic is free traffic coming straight to your website when they search for your company's keywords!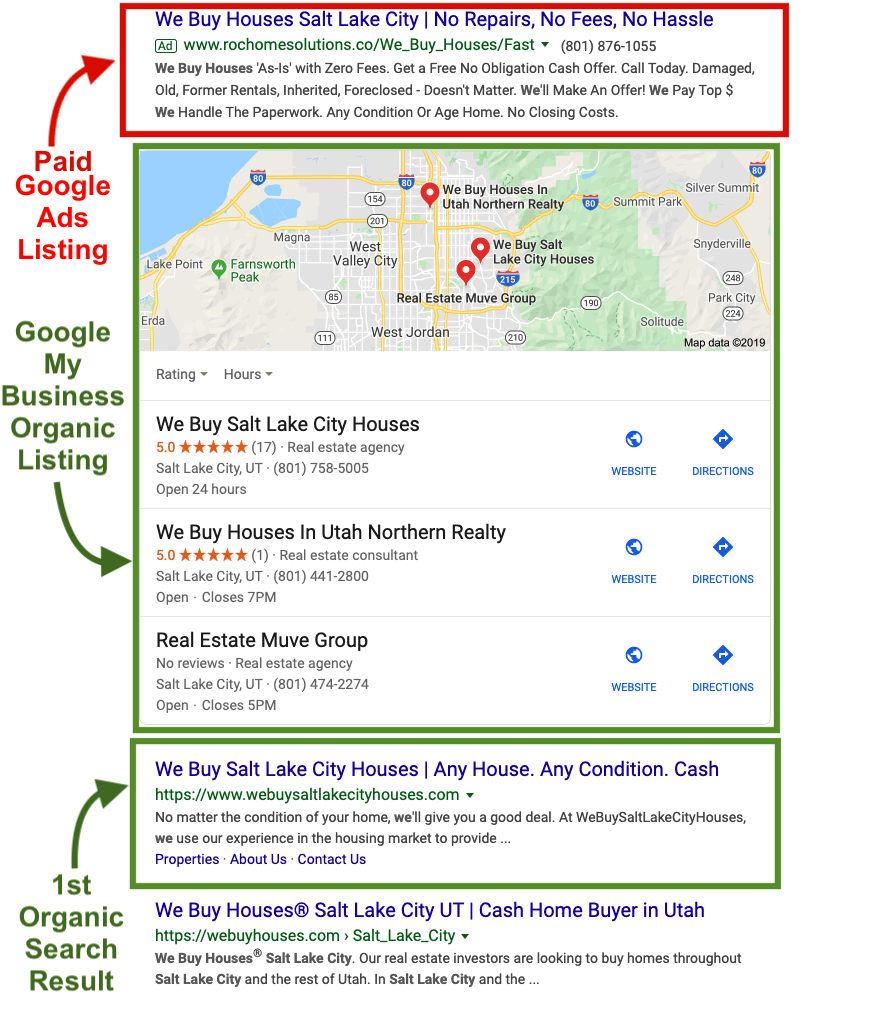 The Goal of SEO is Getting in Front of Search Traffic
It's simple. Investing in your website's SEO helps your company occupy listings on the first pages of search engines, where leads can find you from a relevant search. SEO helps your website get organic traffic from the free sections of search results pages such as articles, videos, snippets, and more. 
Each result page is only comprised of a handful of these types of results. It has been proven time and time again that the habits of users looking for content usually do not go past the first two search result pages. If they haven't found what they are looking for, they usually go back, enter a new search phrase, and try the process again. If your website is listed after page 3 of a highly valuable search phrase, there are ways to optimize your website and grab those precious spots on pages 1 or 2.
Implementing an SEO strategy will potentially lower your customer acquisition costs in the long-term, and is a smart move for a business that plans to still be in business a year from today.
Achieving SEO results means optimizing the following:
Mobile Website Speed

Website Speed

Relevant Keywords

Title Tags

SSL Certificate

Blog Titles

Duplicate Content

Backlinks

And many more fixable items that help your website's credibility with the search engines…
The goal of attracting organic traffic is easy to understand, but proper implementation requires an experienced SEO professional.  
How is the Health of Your Current Website? 
If you already have a website, the experts at Everyday Media Group will find exactly how to best optimize your website for your company's goals.
Uncover all of your current website errors that keep potential customers from finding you with a preliminary SEO Audit. This audit is a part of our free consultation, which is easily booked from this page by filling out the form or calling our office. 
Search Engines change their results criteria constantly. We will fight that battle for you and make sure you are found where you need to be. Contact us today for a customized analysis of your digital strategy.
Our SEO Skills Can Help You Get There
At Everyday Media Group, our professional SEO services are second to none. Our campaigns are designed to bring you results and build your brand on the web. Our team of professionals will develop a customized strategy based on the needs and goals of your business.
Contact us today and find out how we can create a custom SEO plan for you and get your business the online exposure it deserves!
Find the Errors Holding Your Website Back with our Instant Report
Of course, no WANTS to see a highly detailed report on how their company's website is flawed…
But… 
Checking on the health of your website allows you to know where your company stands online. Once you know where your website can improve, the missing schema tags and inaccurate online business listings will no longer be an unknown obstacle to your success!
Our preliminary SEO Audit, included in the free consultation, includes a more detailed outline of website errors than our Instant Report. However, this report will help you get started right now.
Fill out the form below to instantly scan your website: