Comprehensive Digital Marketing Services in Chattanooga, TN
Expert Digital Marketing Services for Your Small or Medium-Sized Business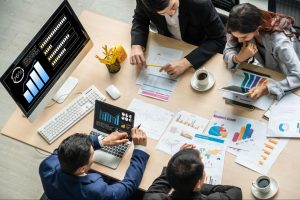 If you are looking for a way to build a successful business in Chattanooga, Tennessee, you probably understand that you need to have a strong online presence. Just as you use the internet when you are looking for something you require, your customers are doing the same thing. As a result, you must make sure you have a strong, visible digital presence if you want to attract the attention of people who can benefit from your product and services.
At Everyday Marketing Group, we have an unparalleled level of experience in digital marketing, and we can help you maximize your marketing efforts. We can help you target the right market, drive quality traffic to your website, and increase your conversion rate. It would be our pleasure to help you with search engine optimization, pay-per-click marketing, social media marketing, and numerous other advertising outlets. Learn more about our services below, and lean on our team if you want to have a strong digital marketing campaign.
PPC Marketing Experts in Chattanooga, TN
There are a lot of people who believe that they can handle pay-per-click marketing on their own. Even though you might be able to get a campaign going, you will probably have a difficult time generating a solid return. That is where our experts can assist you. We understand how to get the most out of PPC campaigns, and we can do the same for you. Our goal is to help you get your name in front of people who are interested in the products and services you provide.
We will also use objective metrics to let you know how your PPC campaign is performing. We can capitalize on what is working, change your strategy when we see opportunities for improvement, and help you maximize your landing pages.
Boost Your Organic Presence With Search Engine Optimization
The reality is that most people are going to click on something on the first page of search results. That is why search engine optimization, usually shortened to SEO, is so important. We understand that it can take a long time to generate a strong search engine optimization campaign, and that is why you need to work with a team that can help you coordinate your strategy.
Our team would be happy to help you do exactly that. We will start by taking a look at your blog titles, your meta descriptions, your images, your videos, your legs, and even your SSL certificate. We can remove duplicate content, compare your SEO campaign to that of your competitors, and do everything we can to help you drive more traffic to your website. You should rely on us to help you build a strong SEO campaign.
Industries We Serve
At Everyday Media Group, we are proud to be one of the most trusted names in the local area. We have already helped countless businesses improve their digital presences, and we would be happy to assist you as well. For example, we have worked with local plumbers, roofers, electricians, bail bond companies, real estate companies, and even HVAC professionals. If you believe someone will look for the products and services you offer using the internet, you need to have a strong online presence.
Our team would be happy to assist you with that. Allow us to customize your digital marketing campaign to meet the requirements of your company. We have the training and tools necessary to get the job done.
Contact Us for a Website Audit
Even though you are probably busy, this is not something you want to put off. Your competitors are working hard to improve their online presence, and you need to do the same thing. Contact us today to schedule your free consultation. We can take a look at your website, provide you with a list of things we think we can improve, and customize your digital marketing strategy for you. Do not delay! You do not have to risk anything by reaching out to us. Contact us using our website, or give us a call to speak to a member of our team.