Web Design And Development
Does Your Website Convert Visitors into Valuable Customers?
Think of a website as your virtual storefront. When a potential customer walks into your store, your objective is to help that person accomplish their goals and ensure they leave satisfied. Your site can do the same for visitors: excite, educate, qualify, recommend, and make a sale that was in their best interest. 
Your website should be a powerful sales tool that breaks through the noise and converts targeted leads into valued customers for life.
Most importantly, your website needs to be mobile-friendly. 
According to Hubspot, 61% of mobile searchers are more likely to contact a local business if they have a mobile-friendly site. 
If your website is not mobile-friendly, Google will penalize you and not even list your website in search results when users search on their favorite search engine, whether they are on a PC, Mobile Phone or Tablet.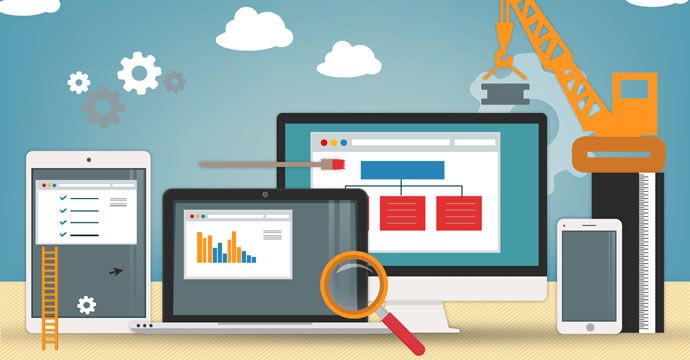 Need a Mobile-Responsive Website that Captures the Attention of Visitors?
Responsive design means that the webpage layout responds differently depending on the user's screen. A smart responsive layout best serves the user by automatically arranging the different layout elements depending on the device.
We build all new client sites with smart responsive design in mind. We can also analyze any existing website to determine if a new design is needed or not.
Connect with our website design experts at Everyday Media Group to evaluate if your current website is helping or hindering your lead-generation efforts. Contact us for a free consultation and we'll help determine the best solution for your specific online goals.
Determining if a Website is Highly-Valuable is About More Than Design
The design of your site is very important to lead generation, but companies must also ensure their site is SEO-friendly as well, meaning it is easily indexed in search engines when your potential customers are searching for your type of business.
The copy on your website must speak directly to the benefit of the reader, or they won't want to read for very long. The website copy should also tell Google and other search engines that your website is relevant for certain search terms. Creating effective website copy is not easily accomplished without valuable keyword research and audience identification, which are areas Everyday Media Group has a head start in for your industry due to our years of digital marketing testing with our current clients.
An Example of Lead-Converting Landing Page for a Real Estate Investor
Website versus Landing Page
A website is a set of interconnected web pages that represent your business. There's typically a page for services, company contact information, about us, a blog or updates, and of course a home page, which is all connected with a navigation bar. A company website exists to convey business values and services to potential customers, and offers a layer of transparency for customers on the fence about purchasing. The website's design needs to be based on user experience so visitors do not leave it for a competitor site that is easier to navigate. 
A landing page is a single web page used to inform targeted leads of a special offer, and the page's sole purpose is to capture leads/create sales. A landing page essentially includes limited navigation, a web form, and compelling copy that highlights the special offer and encourages the visitor to fill out the form. The landing page should have as few distractions from the special offer as possible.
Depending on the goal of the marketing campaign you want to achieve, whether it be collecting leads or increasing brand recognition, a landing page might be needed to increase the success of the campaign and make your advertising dollar reach further. 
Are You Thinking About Featuring a New Product or Service? 
Contact us about creating a landing page to capitalize on your offer. After you have a compelling landing page, the paid media experts at Everyday Media Group will set up an effective campaign to drive targeted leads to your lead-converting page.
Our Fastest Traffic-Driving Options include: