Digital Marketing Strategy for Real Estate Investors
The majority of homeowners looking to sell their home search online. They are actively using Google, Bing, and other search engines to find local investors who will purchase their old home for cash. A staggering number, in fact, that shows digital marketing has a place in the real estate investment market. From SEO (Search Engine Optimization) to PPC (Pay-Per-Click Ads) to SMM (social media marketing), your efforts online do make a difference.
Risk Free SEO/Google Business Profile Pay Per Lead
NEW! We've Introduced an SEO/Google Business Campaign for Real Estate Investors that you only pay for when you get a high-quality Motivated Seller Lead. Click on the video for more info!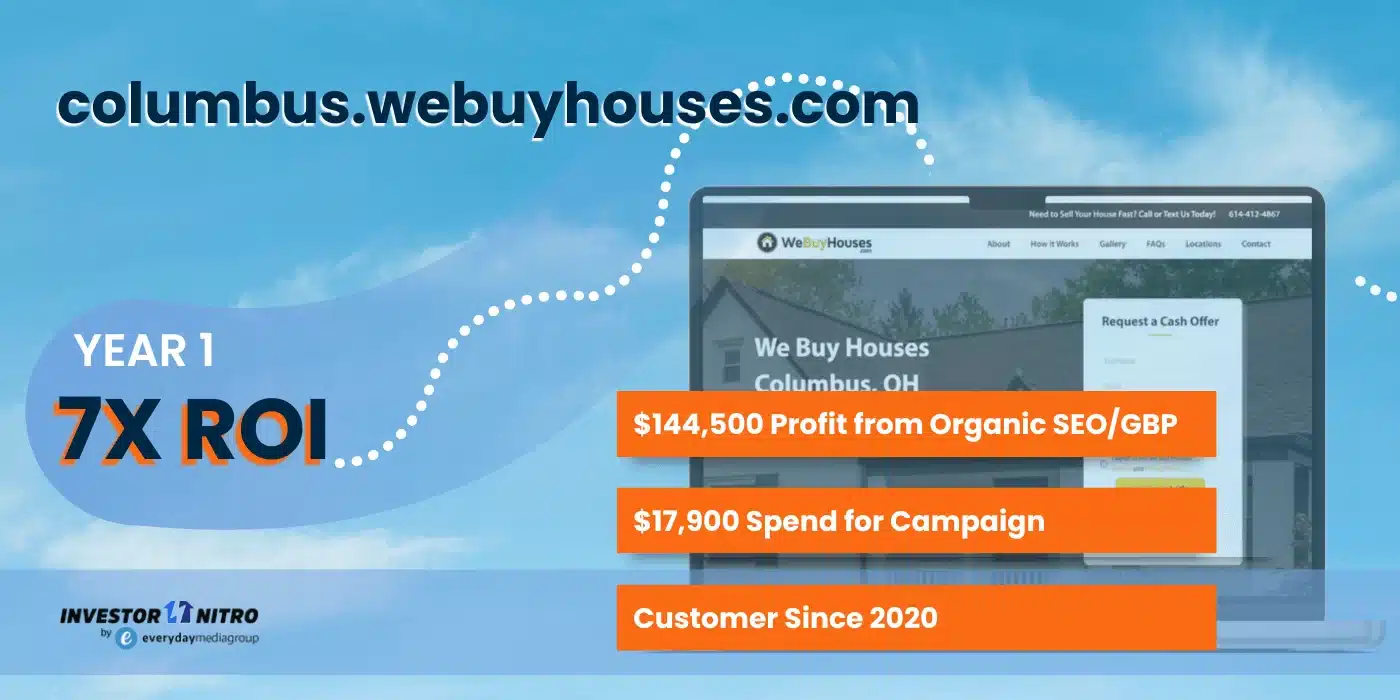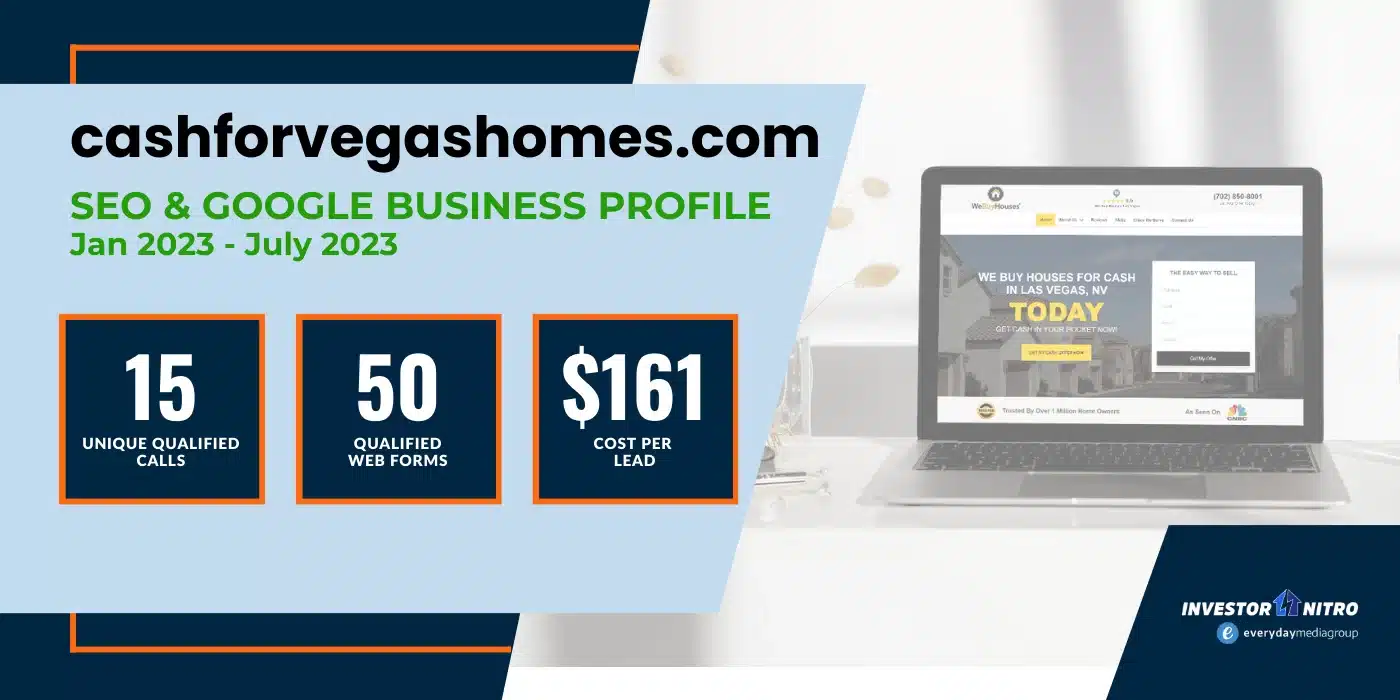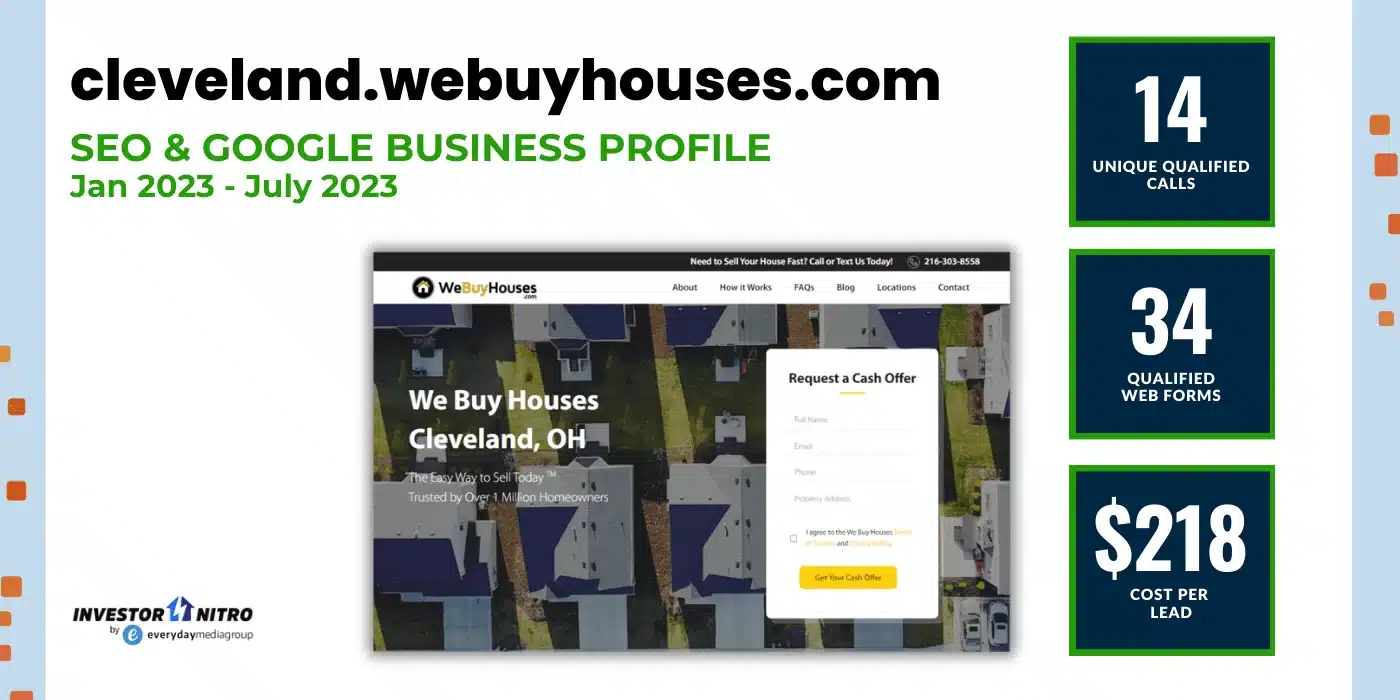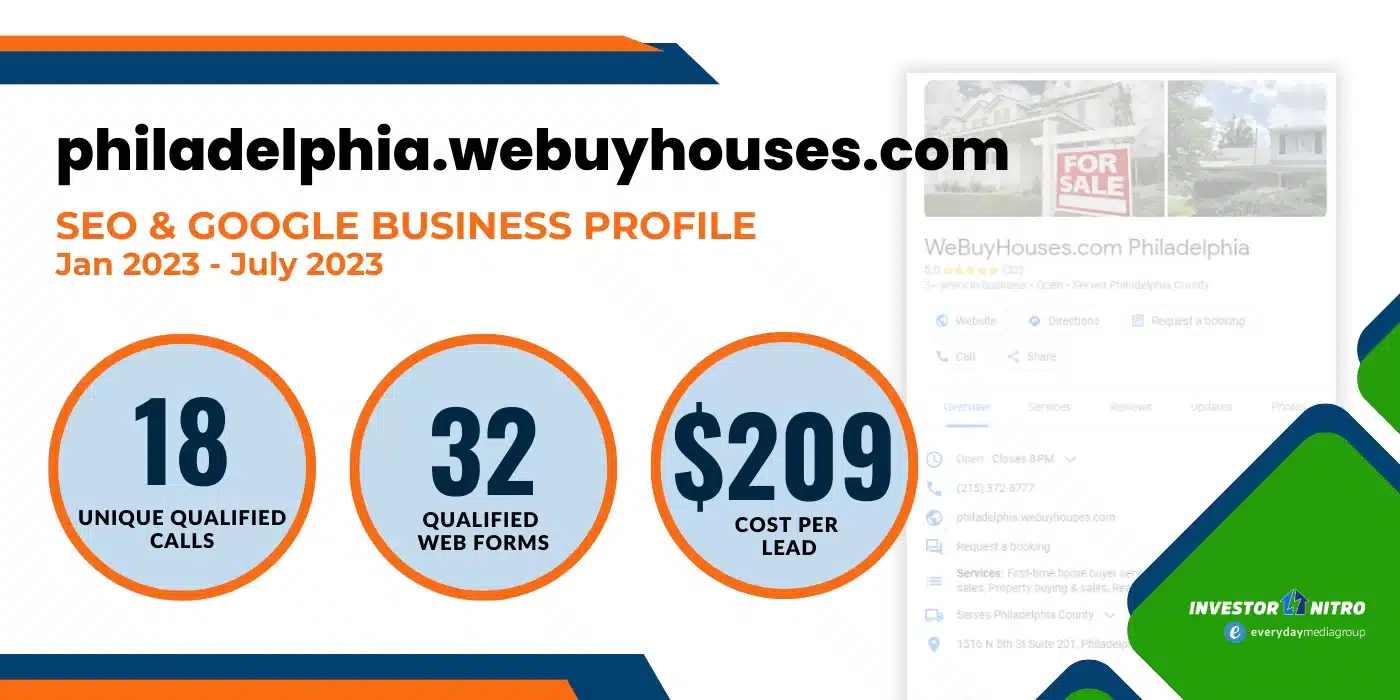 REI Marketing Strategy
Today's customers have access to a breadth of information. With so many local companies vying for attention, digital marketing is the only surefire method to set yours apart from the competition. Digital marketing attracts new customers, builds long-term relationships, and leads to better sales overall. There are numerous paths in digital marketing for real estate investors, though, and choosing the right one is not always black-and-white. For instance, you have SEO, PPC advertising campaigns, and social media marketing. A combination of all three could benefit your business when implemented by a professional. Digital marketing is not a one-man job. It takes a team of experts to put your business in front of the right audience. Alone, you're spreading yourself too thin.
Digital Marketing Steps for Real Estate Investors
Self-Marketing is Crucial
Organic Reach by Search Engines: SEO
Review Generation/Reputation Management
Paid Advertising in Web: PPC
Re-Evaluate Marketing Strategies Based on ROI
"Todd Baldwin and his team at Everyday Media took my Adwords account from unsuccessful (and on the verge of extinction) to a lead generation juggernaut. Their expertise is invaluable to anyone who uses a pay per click campaign. They are always easy to reach by both phone and email, and are ready with the right answers when questions arise."

– Carl S., We Buy Houses
Personal Branding in SEO is Crucial for Real Estate Investors
In the real investment market, you are your business. Your face is the symbol of the entire company and, as such, people need to connect with who you are as a person. That is why personal branding is so crucial. A lot of marketing for real estate investors depends on the person.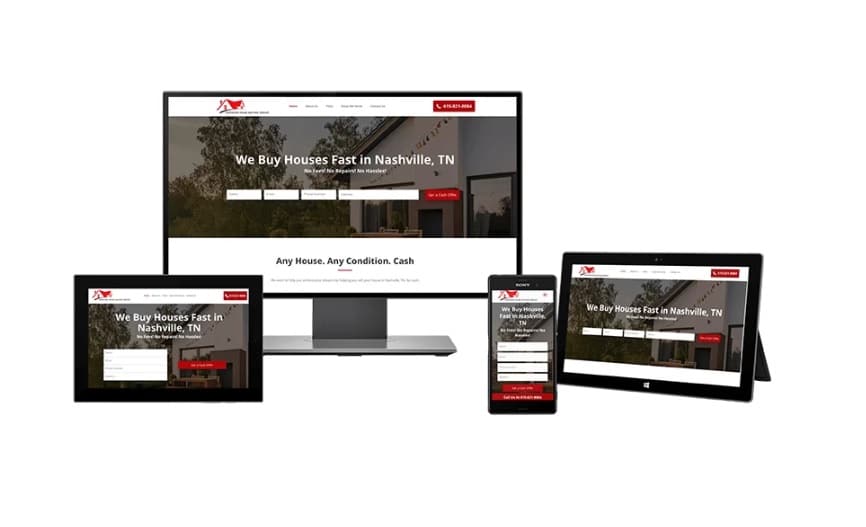 Use Social Media: Social media is an important part of our lives today. It is more than a hangout spot for teenagers and young adults. A lot of business is built on social media. When you form a network, your friends, neighbors, and previous customers can easily recommend your services and interact with your team. Daily activity on Twitter or Facebook, for example, is a constant reminder to locals that you're in the area and ready to do business!
Build a Network of Relations: Even today, organic marketing remains a successful business tactic. You are not only investing in your business, but also in the people involved with it. Your network may include brokers, lenders, attorneys, contractors, inspectors, and so much more.
Focus on Public Relations: When performed correctly, public relations maintain your presence on the market. Social media is a low-cost solution for pushing public relations messages. If successful, the market understands who you are and why they need your service.
Be Honest: Social media is very open. If you lie, people will know. If you falsify information regarding your business, someone is bound to discover the truth. It is better to remain honest from day one, as you will earn the respect of the community and the industry.
Know Every Customer by Name: As a real estate investor, you have an added advantage over other industries: you can learn your customers' names. Every potential sale is linked directly to a face or family. Learn their name, and use it often, to reinforce your commitment to their personal success story.
Find Your Potential Client & Stay in Touch: A little friendliness truly goes a long way. Even after you've made a sale or purchased a home, try to remain in touch on social media. Ask how their new property is doing, or if they have achieved their goals. They will remember you for next time!
Organic Reach by Search Engines: SEO 101 for Real Estate Investors
For many, Google is the default webpage on their computer. It is the lifeline for all information on the internet. Yes, that includes your website and business. When someone brings up Google with the intent of finding a home in the area to rent, purchase, or sell, you want the number one search result.
The following steps help people locate you in major search engines:
Find Your Audience: Without an audience, you have no customer base. You may find and build an audience through digital marketing and SEO. By locating the most-searched keywords, you'll discover who your market is and what they want. Then, your website can be tailored to suit such keywords and information better.
Build Your Website for the Audience You've Targeted:
Design & Development: An efficiently designed website gets the point across. Your services are written and displayed, pages load quickly, and customers have no trouble contacting you.
Content Optimization: Without content, you do not have a website. Each piece of material – from landing pages to blog posts – must be thoroughly optimized for targeted keywords and general know-how.
SEO Best Practice for Your Site: SEO is an ever-changing marketing technique. Today's best practice may change next year but remaining on top of the trend keeps you at the forefront of your industry.
Executing SEO Strategy: Talking about implementing an SEO strategy is fine, but executing the plan takes a professional with expertise and tact. With targeted local SEO in the Real Estate Investor Market, you can slowly build your reach naturally as you engage with customers until you achieve all the top SERP results.
Presence Management: Your business needs an online presence. You cannot ignore the importance of social media, content curation, sharing information, or reputation management from the likes of Yelp or Google My Business.
Tracking & Analyzing: Planning and executing an SEO strategy takes time and technique. You deserve to remain in the loop through each process. An SEO specialist will track ROI, analyze what methods worked well, and report back on all findings for future reference and direction.
With so many factors to consider, it is best to allow a professional to handle your SEO. At Everyday Media Group, we specialize in real estate investor SEO; building websites and implementing search engine optimization techniques that rank your business higher than the competition.
Here are a few example real estate investor websites we manage:
Review Generation/Reputation Management is Very Important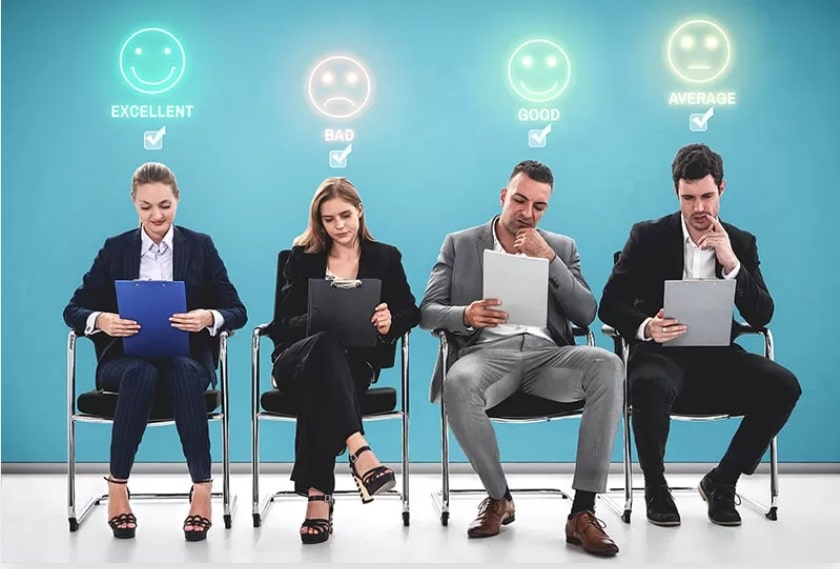 Your business has competition, so there is no point in skirting around the issue. When your roofing or insurance company is vying for consumers' attention, the shop down the block can siphon some of the focus away from your excellent services. The need for review generation and reputation management then enters the picture. These two factors can draw in new business and keep old business from wandering.
At Everyday Media Group, we provide uncompromising reputation management and review generation services. Regarding review generation, we help gather positive customer reviews, which can attract wary consumers to your services. Reputation management has the same goal. When most research and marketing is completed online, looking good makes a difference. However, this service is more than cleaning search engine results for negative news or information. It's a long-term solution that highlights the positives of your business, protecting you from negative connotations or narratives.
Paid Advertising for Real Estate Investors in Web: PPC 101 for Real Estate Investors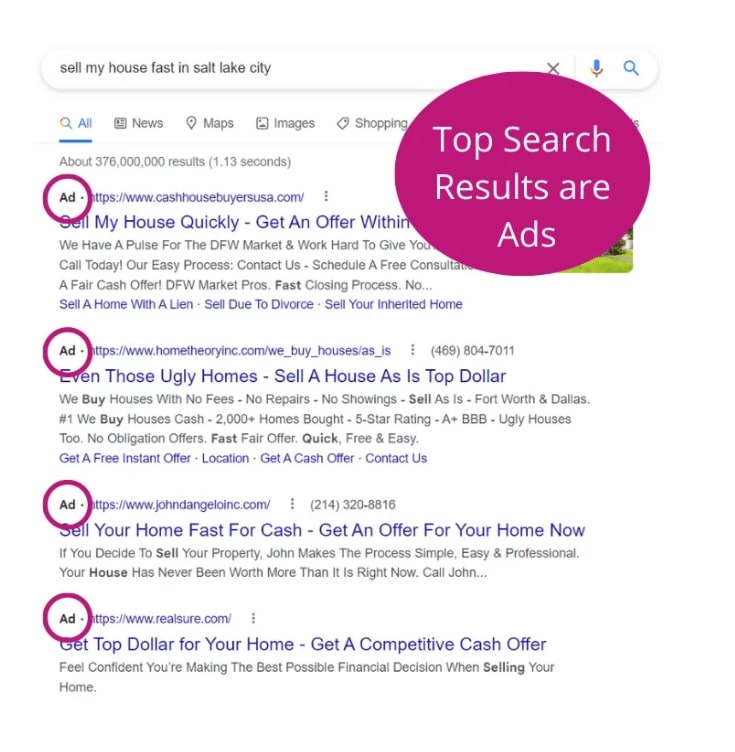 The goal of marketing is to funnel towards further conversions and an increase in sales. You are likely hesitant to consider paid advertising, as many businesses have horror stories about failure. Those are myths, though. With an experienced specialist, you will see ROI for your paid advertising campaigns.
Benefits of Pay-Per-Click Advertising: First and foremost, people do click ads on Google or Bing. Over 51% of users searching for local real estate clicked on an advertisement. That ad could be yours.
Ads in Search Engines: When searching for specific keywords, Google and Bing bring up search results that include pay-per-click advertisements. With the right copy, your ad could be a top search result, gaining more click-throughs and sales.
Paid Advertising on Social Media: Everyone uses social media these days, so marketing your business in front of the right audience on Twitter or Facebook could bring in sales like no other!
Importance of a Killer Landing Page: Optimized content, such as a landing page, on your website, attracts attention. When someone clicks an ad that leads to a killer landing page, they are more likely to use your services.
Best Practice for Creating Ads: Marketing techniques change, and a specialist will remain at the forefront of best practice when creating your advertisements.
Tracking & Analyzing: By tracking and analyzing what works, we can tailor your PPC campaign to suit your business goals and ROI desires better.
Why You Need an Expert: An expert understands that an ad campaign is more than an eye-catching picture. It's about data, expertly-written copy, and finding the right audience.
"Great company!! They know their stuff with AdWords and marketing. They have helped grow our real estate investing business significantly!"

– Janie S., We Buy Houses
Re-Evaluate Your Digital Marketing Strategy Based on ROI
Digital marketing for real estate investment is a lot like fishing. You pick the right spot, cast your line, and wait for an interested party to scoop it up. It all comes down to that spot, though. You could throw a wide net and release advertisements on Google, Bing, Facebook, Yahoo, and Twitter. Or, you could analyze and re-evaluate your digital marketing campaign; find what works best for your business and industry, then capitalize.
It all comes down to knowing your audience; whether they respond best to SEO, PPC, social media, or perhaps referral marketing.
Planning to start a digital marketing campaign for your real estate investment business?
Let us help you! Schedule a call with Todd for a free consultation!