Dallas SEO and Digital Marketing Company
Boost Your Organic Presence with Search Engine Optimization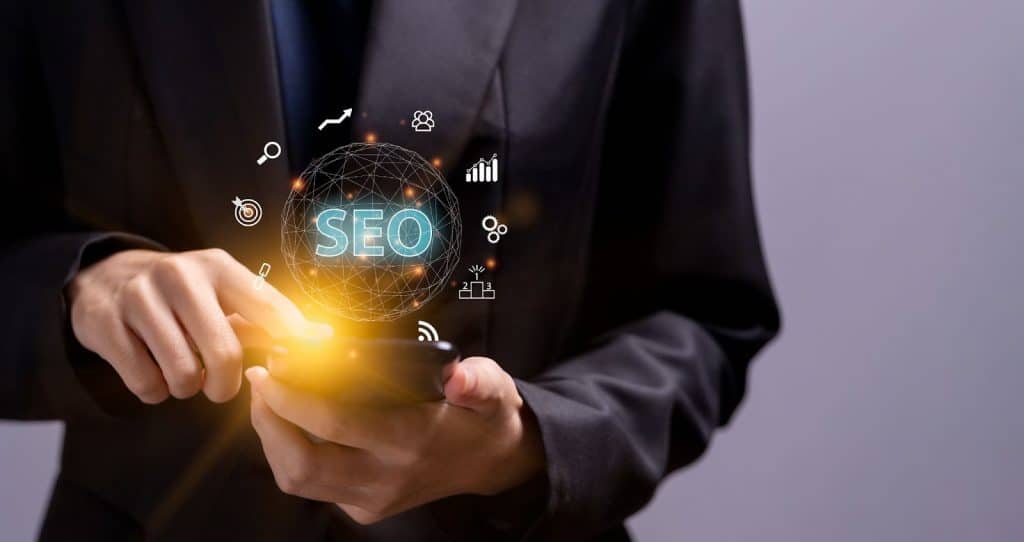 Although search engine optimization does take some time to see some turnaround, it is totally worth investing in. We can assist you in creating a customized SEO strategy that is based on the needs of your Dallas company. When you use unique keywords that your customers are searching for online in the correct way, you can get your business to rank better in search engines. The higher your company ranks, the more likely someone is to click on your company's website.
Most people do not scroll past the first page of search engine results, so the goal is to get you as far up in the search rankings as possible. Search engine optimization can bring customers to you organically. When working to improve SEO for your Dallas business, we look at local listings and evaluate ways to fit you in. We also look at backlinks, duplicate content, blog titles, your SSL certificate, title tags, relevant keywords, website speed, and more. SEO can be a tricky thing to fully understand. By working with professionals, your strategies will be as effective as possible.
Website Design Services and Building Brand Recognition
In today's digital-first world, your website acts as the primary touchpoint between your business and potential customers. At Everyday Media Group, we believe that a well-designed website does more than just display information; it tells a brand's story. Our team of designers and developers craft bespoke website solutions that not only look visually stunning but also resonate with your brand's core values and message. By integrating intuitive user interfaces with compelling visuals, we ensure that your website captivates visitors, encouraging prolonged engagement. When users have an enjoyable, seamless browsing experience, it enhances brand recognition and trust. Every pixel, every animation, and every call-to-action is meticulously placed to ensure that your brand stands tall and memorable in a crowded digital landscape.
How Search Engine Optimization Can Generate Leads
Search Engine Optimization (SEO) serves as a lynchpin for any business desiring a prominent online presence. At Everyday Media Group, we've cultivated a deep understanding of how SEO can be a game-changer. A well-optimized website is akin to a storefront located in a bustling marketplace: highly visible and easy to find. By incorporating the right keywords, quality content, and authoritative backlinks, a business can rank higher on search engines like Google. This elevated ranking increases organic traffic, putting your brand right in front of potential customers actively searching for your services or products. Each visitor is a potential lead, and with the right on-site strategies, these leads can be converted into loyal customers. SEO isn't just about visibility; it's about strategically positioning your brand in the digital realm to generate tangible business opportunities.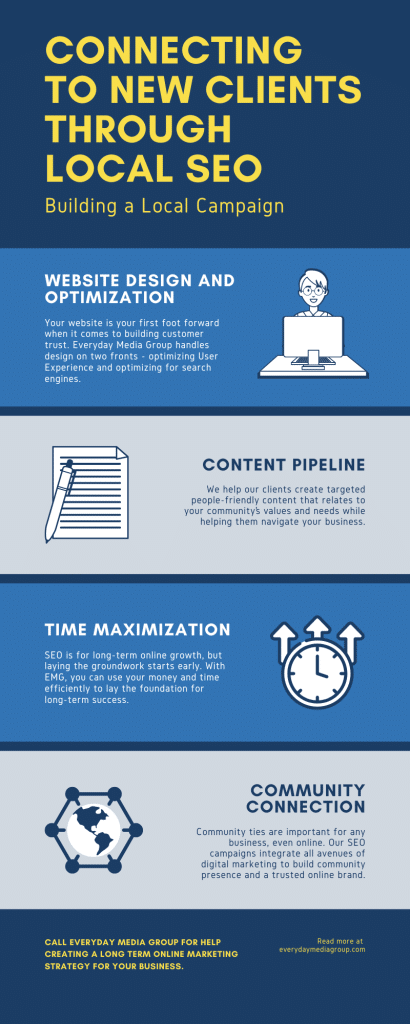 Social Media Marketing and Reputation Management
Social media has become an undeniable force in today's marketing ecosystem. At Everyday Media Group, we leverage the power of platforms like Facebook, Instagram, LinkedIn, and Twitter to amplify your brand's voice and reach. Social media marketing goes beyond posting regular updates; it's about fostering genuine connections with your audience. By curating tailored content and interactive campaigns, we engage users, creating a loyal community around your brand. However, with great power comes great responsibility. The immediate and transparent nature of social media means that brand reputation can be influenced swiftly. Our reputation management services monitor, address, and leverage both positive and negative feedback, ensuring that your brand maintains a positive image, always ready to turn challenges into opportunities.
How to Create a Dallas-Focused Digital Marketing Plan
In today's era, no matter how big or small your business or brand is, a website is one of the first things a potential customer or audience looks for when they come across your brand name. It goes without saying that having a clean and slick website that serves the audience what they need is a must to grow the business.
It is still tricky to understand how to craft a good website content plan. It usually happens when you're starting out. Places like Dallas are known for small businesses. According to a report, Dallas is the best county in Texas for small businesses. A Dallas-based Digital Marketing Agency can help you navigate to potential customers.
So, while business is booming, it is essential for your company to have an optimized website content plan. EveryDay Media, our Dallas SEO company, helps you accomplish that.
If you've struggled with crafting, strategizing, and creating the perfect website content, then you've come to the right place. We'll take you through a few simple yet significant steps to create a good, optimized website content plan. Let's jump right in.
Step 1: Understand the Purpose of Your Website
Understand what you want to accomplish with your website. For example, do you want to build brand awareness, generate more leads, get sales, or something else? This is important to know before we begin planning the content since it dictates the strategy, the design of the website, and the experience you'd want your audience to have when they land on your page.
Step 2: Know Your Audience
This is the second step. Knowing who your audience means, knowing their age group, where they come from, what language(s) they speak, their interests, persona, and more. If you do, then your job is half done. This is because the cognizance or awareness will enable you to determine what they want and what would attract their attention.
Step 3: Develop Your Site-Map
While the above two steps are a prerequisite to a website content plan, from this step onwards, you get into the technicalities of content creation, on-page SEO, link-building, and more. A site map is a skeleton structure or a blueprint of a website.
It is essential to have this because the Google Search Engine surfs through this website to see how easy it is to navigate the website. The easier it is, the better is your SEO. So, it is important to optimize your sitemap and have a clean website structure.
This includes having the different pages on the site in a proper hierarchy, and whenever more pages are added/updated, the website's structure shouldn't be disturbed to a great extent. This does involve a certain level of SEO knowledge, which is where experts such as ourselves, EveryDay Media Group, can help you.
Create Assets
Based on your website, you can start creating assets such as blog posts, video content, and more for your website. Ensure that, while creating these, you research the different keywords based on your topic.
For instance, if you're writing a blog article to discuss e-commerce, research the commonly used keywords around the subject and learn to incorporate them in your article. In addition, there are numerous other hacks to follow which become an important part of your on-page SEO.
With videos, it is important to determine if you're embedding them within the website or adding links. In both cases, the time for the page to load will also differ, and hence the SEO ranking will too. Besides these, depending on the kind of asset, there are a few best practices to follow, and that would lead to you having good quality content on your website.
Publish Content and Optimize
After you've created your assets, it is good practice to make them go through a quality check. This check can be both from the content perspective and the optimization perspective. Once this part is over, you can publish your content on the website.
While publishing, it is also necessary to optimize it. This can be done in multiple ways. One of the most common methods is link-building. In this, you add links to other articles/content pieces within the website and also links to external sites.
The advantage is that your website gets higher authority and credibility. On the other hand, you can also work on partnering with external sites which link to your current asset. This also builds credibility and becomes part of the off-page SEO.
Promote Content
There are multiple ways to do this as well. You can promote the asset on your company/brand's social media channels such as Instagram, Facebook, Twitter, and more. Besides these, you can also leverage your email newsletters to share the latest assets with your audience who've subscribed to the newsletter.
While this is an organic way to do it, there are also paid advertisements and promotions that you can leverage. Use platforms such as Google Ads and Facebook Ads, to showcase your latest work to the audience across different mediums.
Dallas Digital Marketing Experts: Let Us Help You Drive Business Growth
Located in the heart of Dallas, Everyday Media Group comprises a team of digital aficionados dedicated to driving business growth in the digital realm. As local experts, we understand the unique nuances and needs of the Dallas market. Combining this localized insight with our global expertise, we devise strategies that resonate with your target audience, whether they're in Deep Ellum or halfway across the world. From startups to established enterprises, our bespoke solutions are tailored to fit your business goals and vision. Let us be your partners in navigating the ever-evolving digital landscape, turning clicks into customers and dreams into digital success stories.
Audit Website and Update Website Content Periodically
This is the final step, and many times, brands forget about it. It is good to go through a site audit once or twice a year to know whether it is optimized properly. Furthermore, it is important to update your existing assets based on the changing times and trends.
For instance, if you wrote an article about best SEO practices, it is necessary to update this article, as the best practices change over months and years. So, auditing and updating the website is important to stay relevant.
Pay Per Click (PPC) Services in Dallas
Dallas, a city with a vibrant business ecosystem, is home to exceptional Pay Per Click (PPC) services that are transforming the digital marketing landscape. By offering personalized, data-driven PPC campaigns, Dallas-based service providers help businesses connect with their target audience more effectively, driving website traffic and generating high-quality leads. With their in-depth market insights and innovative strategies, these PPC experts enable businesses to outperform their competition, amplifying their online presence and boosting revenue.
Conclusion
A website content plan isn't a one-time job. Instead, it is an always-on exercise where all these steps should be used for every plan you make and every content you create. However, these also require technical SEO knowledge, and that's where companies such as EveryDay Media Group come in. We are a Dallas SEO Company offering numerous services and packages for small to large businesses based on their needs. Learn more about us on our official website, and get started for your small business.