Cleveland, OH, SEO & Digital Marketing Company
Boost Your Presence With Search Engine Optimization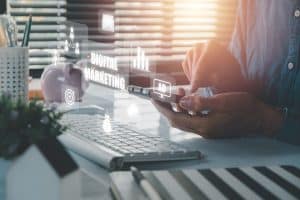 The vast majority of people use the internet when they are looking for products and services they require. Therefore, if you want to make sure that you get noticed, you need to think carefully about your online presence. That is where a search engine optimization campaign orchestrated by Everyday Media Group can be helpful.
Search engine optimization is the process of tailoring your online presence to meet the needs of search engines. Because so many people are going to click on something at the top of the page, that is where you want your results to fall. You need to track the most important words and phrases for the products and services you offer. At Everyday Media Group, we can help you identify those words and phrases using a strong SEO campaign and help you drive quality traffic to your website.
There are several important areas we will address to make sure your search results rankings are as high as possible:
We will use keyword research to make sure we know the most important words and phrases for your industry.
We will take a look at your website architecture to make sure everything is functioning as it should. We want to make sure that you do not have any broken links, and we will ensure that your website is easy for search engines to categorize.
We can even work with you to help you design content that can help you stand out from the crowd.
We will customize our search engine optimization campaign to meet your needs. We will also keep you updated regularly, providing you with information about key performance indicators that allow you to objectively see how well your campaign is working. Count on Everyday Media Group to help you.
Pay Per Click (PPC) Services in Cleveland
In Cleveland, Pay Per Click (PPC) services have emerged as a game-changing solution for businesses aiming to augment their digital footprint. With a nuanced understanding of digital marketing, Cleveland's PPC service providers devise highly targeted campaigns that significantly improve click-through rates, conversions, and return on ad spend. Using cutting-edge tools and analytics, they ensure maximum visibility and engagement for businesses across the diverse Cleveland market, delivering measurable results and contributing to a robust digital economy.
Why Choose Everyday Media Group?
If you live and work in Cleveland, Ohio, we understand that you have options available. Some of the reasons why you should partner with us include:
We are always responsive to your needs. We will take the time to answer any questions or concerns you might have.
We have access to the best SEO experts and SEO tools in the industry, and we can use them to provide you with the results you are looking for.
We do not just design a campaign for you. We also focus on maintenance, helping you stay at the top of the list once you get there.
For all of these reasons, count on Everyday Media Group to help you. Contact us today!