Dominate Local Search with Everyday Media Group's Expert GBP Management
Harness the Power of Google Business Profiles for Unmatched Local Visibility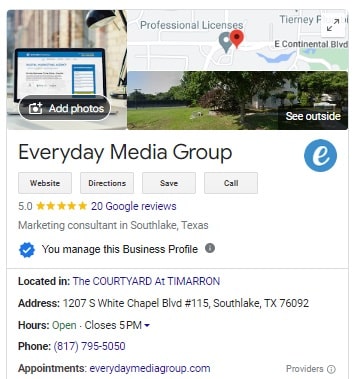 At Everyday Media Group, we specialize in managing Google Business Profiles (GBP) for clients across a multitude of industries within the United States. Our strategic approach ensures that your business not only gains visibility but dominates local search results, connecting you directly with the community that matters most — your customers.
Why Google Business Profiles Matter for Your Brand
Google Business Profiles are the cornerstone of local search. When potential customers search for services or products in their area, GBP listings provide the immediate, relevant information they seek. A well-managed GBP serves as a digital storefront, showcasing your business at the moment of discovery. It's more than a listing; it's the first impression you make.
Our Expertise in GBP Management
Everyday Media Group is adept at optimizing Google Business Profiles to elevate your business's online presence. We ensure your profile is:
Fully optimized: We craft a GBP that stands out, utilizing SEO best practices to enhance your listing with keywords that resonate with your local audience.
Accurate and consistent: From NAP (name, address, phone number) to operation hours and services, we maintain up-to-date information, instilling trust and reliability.
Engaging: We enrich your GBP with high-quality images, compelling descriptions, and posts that reflect your brand's unique voice and offerings.
Reputation-ready: Reviews are pivotal. We manage and respond to customer reviews to foster a positive reputation and build customer loyalty.
Insightful: Leveraging GBP analytics, we tailor your profile for continuous improvement, ensuring it targets and engages the right local audience.
Integrating GBP with Local SEO Strategies
While GBP is our focus, we integrate it seamlessly with broader local SEO strategies. This holistic approach amplifies your visibility, driving top search result rankings, and connecting your business with local customers who are ready to convert.
Google Business Profile and Review Generation
In the digital marketplace, trust is currency, and Google Business Profile (GBP) stands as a testament to a business's credibility. At Everyday Media Group, we understand that reviews are the lifeblood of trust signals online. That's why we focus not just on creating a robust GBP, but also on generating authentic, positive reviews from your satisfied customers. These reviews do more than just adorn your GBP; they serve as powerful endorsements that potential customers rely on when making their choice. Our strategic approach to review generation encourages ongoing customer feedback, which not only boosts your profile's authority but also provides invaluable insights into your business performance.
Use Google Business Profile to Build Trust Signals
Crafting a GBP with a rich repository of positive reviews is an art, and Everyday Media Group excels at it. We help you harness the full potential of your GBP to build trust signals that resonate with both Google's algorithms and your prospective clients. By actively managing your review profile, responding to feedback, and addressing concerns, we elevate your reputation in the local community. This proactive engagement not only fosters a positive image but also signals to Google that your business values customer interaction and is a reliable source for users. Consequently, a well-reviewed GBP is likely to rank higher in local search results, putting your business front and center in the local search landscape.
Experience Across Industries
Our extensive experience with diverse industries means we're well-equipped to handle unique local SEO challenges and opportunities. Whether you're in healthcare, retail, hospitality, or any other sector, Everyday Media Group has the expertise to tailor a GBP strategy that aligns with your industry-specific needs.
Ready to Command Your Local Market?
Connect with Everyday Media Group today, and let us elevate your Google Business Profile. Dominate local search, outshine your competition, and become the go-to choice in your community. Call today or reach out online.