Chicago, IL SEO Company
Chicago, IL, Search Engine Optimization and Digital Marketing Services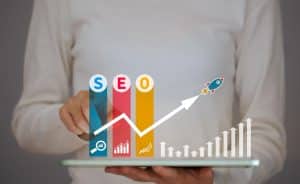 If you want to reach your target market in the current environment, you need to focus on search engine optimization. At Everyday Media Group, it would be our pleasure to help you with your digital marketing strategy in Chicago. Because so many people use the internet when they are looking for products and services they need, that is where you need to focus your time and energy. Even though other forms of marketing are still important, you must make sure that you have a strong online presence. Search engine optimization can help you with that.
The entire purpose of search engine optimization is to craft your online presence to meet the needs of search engines. With search engine optimization, you can position your company at the top of search results rankings for certain words and phrases that your target market might use when they are looking for products and services they need. Then, when you are at the top of the page, you can generate more online traffic, helping you generate more reviews as well.
There are a number of factors that are important in search engine optimization. They include:
You must make sure that you share quality content on a regular basis.
You need to target the right words and phrases, using them in certain locations on the page.
You also need to make sure your website is as easy as possible for search engines to categorize.
We are Everyday Media Group, and we can help you refine your SEO strategy. If you decide to partner with us, we can help you generate more online traffic, leads, and conversions.
Pay Per Click (PPC) Services in Chicago
Chicago, a bustling city renowned for its diverse and dynamic economy, is a thriving center for PPC services. Businesses across sectors in Chicago utilize these services to extend their reach to potential customers in a cost-effective manner. Given the crowded marketplace, Chicago-based PPC agencies employ their knowledge and experience to give their clients a significant competitive edge. They focus on optimizing the PPC campaigns to generate high-quality leads and increase conversion rates. Using a data-driven approach, these agencies ensure measurable results, making PPC an essential component of digital marketing strategies in Chicago.
Leverage SEO to Get Your Website Found by Chicago Locals
If you want to generate more foot traffic, you still need to focus on search engine optimization. Local SEO services in Chicago can help you target people in the local area looking for your products and services. Some of the most important factors for local search engine optimization include:
We will make sure that you have relevant location pages for the products and services you offer.
We can also help you make sure your name, address, and phone number are consistent across all pages.
We will even help you generate local content focusing on Chicago to make sure search engines know that you are appealing to the right market.
If you are looking for someone who can help you with Chicago search engine optimization services, look no further than Everyday Media Group. Contact us today to speak to a member of our team!