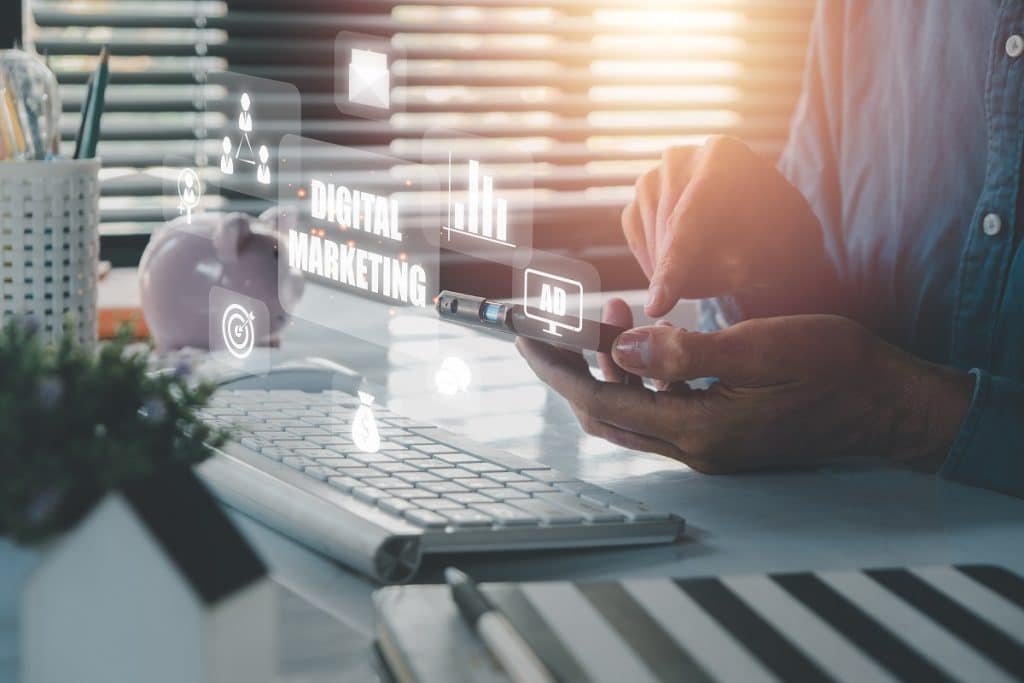 Digital Marketing Services in Albuquerque, NM
As a leading digital marketing company in Albuquerque, NM, Everyday Media Group offers comprehensive and tailored digital marketing services to help businesses thrive in the online landscape. From designing and developing user-friendly websites to implementing effective SEO strategies, we have the expertise to enhance your online presence and drive meaningful results. Our team of skilled professionals stays up-to-date with the latest trends and best practices, ensuring that your brand stands out in the competitive digital space. Whether you need assistance with content creation, social media marketing, or email campaigns, we are here to deliver exceptional results and help you achieve your business goals.
Search Engine Optimization for Organic Visibility
Improve your website's visibility and reach the top of search engine results with our search engine optimization (SEO) services. Our dedicated team of SEO experts in Albuquerque understands the intricacies of search algorithms and employs proven strategies to optimize your website for organic traffic. From keyword research and on-page optimization to link building and content creation, we utilize industry-leading techniques to boost your rankings and drive targeted traffic to your website. With our SEO services, you can gain a competitive edge, increase brand exposure, and attract relevant customers who are actively searching for your products or services.
Pay Per Click Campaigns
Pay-per-click (PPC) ads are a digital advertising model where advertisers pay a fee each time their ad is clicked. These ads are prominently displayed on search engine result pages (SERPs) and various online platforms. One of the key benefits of PPC ads is their cost-effectiveness. Advertisers only pay when someone actually clicks on their ad, ensuring that they are only charged for tangible results. This makes PPC an efficient method for businesses to control their advertising budget and maximize their return on investment (ROI). Another advantage of PPC ads is their ability to target specific audiences based on keywords, demographics, and location, allowing advertisers to reach their desired customer base with precision. Moreover, PPC ads provide instant visibility, as they can be launched and displayed immediately after setup, enabling businesses to generate immediate traffic and potential leads. With the flexibility to customize campaigns, monitor performance metrics, and optimize strategies in real-time, PPC ads offer a highly measurable and adaptable advertising solution in the digital landscape.
Social Media Advertising and Brand Recognition
Harness the power of social media advertising to boost brand recognition and engage with your target audience. Our digital marketing agency in Albuquerque specializes in creating impactful social media campaigns across platforms like Facebook, Instagram, Twitter, and LinkedIn. We develop tailored strategies based on your business objectives and target market, crafting compelling content and eye-catching visuals to captivate your audience. By leveraging advanced targeting options and analytics, we optimize your social media advertising to reach the right people at the right time, fostering brand loyalty, and driving conversions.
Call for a Website Audit or to Find Out More
Are you unsure about the performance of your website or the effectiveness of your current digital marketing strategies? Contact us today for a comprehensive website audit. Our team will analyze your website's design, structure, content, and performance to identify areas for improvement and provide actionable recommendations. Whether you need assistance with SEO, PPC, social media marketing, or any other aspect of digital marketing, our experts are ready to answer your questions and guide you towards achieving your online marketing objectives. Don't miss out on the opportunity to elevate your digital presence and drive tangible results for your business. Call us now to find out more about our services and how we can help you succeed. You can also reach out to us online.