Best Direct Mail for Real Estate Investors
Direct mail remains one of the best channels for real estate investors. But it's also a competitive one. Many neighborhoods receive a significant amount of direct mail from interested investors — and they need to be able to identify the investors who are most trustworthy and willing to engage. How can you create direct mail that isn't going to go in the trash?
Customize Your Mail to Individuals
There are a lot of tricks that real estate investors use to make sure their mail looks custom. You can make it look handwritten (or hand-typed) — and you can address it directly to the homeowner. Think "Bob," not "Mr. Bob Smith." The goal of your mailer is to make it look as though you have a specific interest in their property — because you do. But people are inundated with so much mail every day, they become skeptical of it all.
Think About the Problems They May Have
Why would someone want to sell a house quickly? If they're going with you, they haven't put their home on the market yet — but they want to. Most people in this situation have issues with their home that they can't fix, or they have been saddled with a home they need to get rid of fast. Address these problems in your letter. Let them know (for instance) that you purchase any home, that you make cash offers, and that you can close fast.
Make Sure Your Methods Are Easy to Scale
Whatever type of mail you're sending, it has to be fast and easy to scale. If you're sending letters with a stamp (to add to your personalization), can you scale that to 4,000 letters? 40,000? Always think about what you're going to do when your business grows. You want a set process that will take you all the way. 
Always Have a Call to Action
People always look for the next step. Usually, they want to be told what to do. As a real estate investor, your next step could be to call for more information or to get a no-obligation appraisal. You can stress that getting a quote in no way obligates them to accept it. Either way, tell them exactly how to contact you and when.
As you can see, direct mail for real estate investors has to strike a fairly delicate balance. It needs to be customized enough to not be immediately thrown out — while still being scalable. And that requires a system. At Everyday Media Group, we've partnered with REI Print Mail to bring you a tailored solution for delivering personalized letters to motivated sellers in your target area. Contact us today to learn more about our perfect blend of digital media and mailers for real estate investors.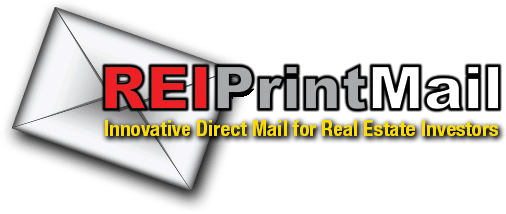 Is there anything better than Direct Mail for Real Estate Investors?
The best inbound marketing strategy usually involves a variety of lead generation channels. The "Marketing Rule of 7" states that a prospect needs to see the advertiser's message at least 7 times before they'll take action to buy that product or service. Being visible online and offline can yield better results than a strategy that puts all of your marketing dollars into one basket. A mix of digital and print can yield powerful results because it increases the likelihood of connecting with a property owner.