Digital Marketing Services in Detroit, MI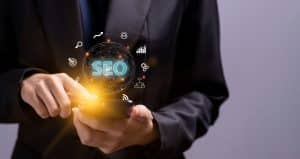 At Everyday Media Group, we've developed a digital marketing model that extends far beyond the boundaries of our Southlake, TX headquarters. We serve nationwide, including vibrant cities like Detroit, MI. Our unique blend of data-driven strategies, creative designs, and tech-savvy solutions allows us to deliver impactful digital marketing campaigns to businesses in the Motor City and beyond.
Search Engine Optimization: How It Works
We believe in the transformative power of Search Engine Optimization (SEO) to elevate your brand visibility and drive business growth. At Everyday Media Group, SEO is not just about inserting keywords – it's about crafting a comprehensive strategy that includes high-quality content, website optimization, and building quality backlinks. Through our cutting-edge SEO techniques, we help your business to reach the top of search engine results, increasing your visibility to potential customers.
Pay Per Click Services in Detroit
Our Pay Per Click (PPC) services are tailored to deliver immediate and quantifiable results, irrespective of your location. For Detroit businesses, we create targeted, data-driven PPC campaigns that capture the attention of your potential customers right when they are ready to make a purchase. By investing in our PPC services, you get access to our advanced keyword strategies and ongoing campaign monitoring, ensuring that your ads are not just seen, but also effective.
Social Media Marketing to Boost Your Business
In an era where social media has become a fundamental part of our daily lives, businesses cannot afford to miss out on the opportunities these platforms offer. At Everyday Media Group, we utilize the full potential of social media to increase your brand's reach and engagement. Our tailored social media strategies involve curating and posting engaging content, fostering genuine relationships with your audience, and leveraging the power of paid ads, all aimed at boosting your business growth.
Call For a Website Audit and Help Growing Your Business
Every successful digital marketing strategy starts with a comprehensive website audit. At Everyday Media Group, we provide a meticulous audit of your website to identify areas of improvement and develop a roadmap for success. Not only do we find potential issues that may be hindering your website's performance, but we also guide you in implementing the necessary fixes to boost your online presence. Give us a call today or contact us online, and let's grow your business together.