SEO Company in Fort Collins, CO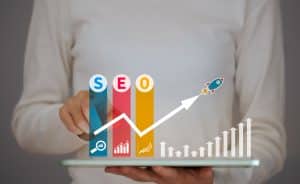 Are you looking for an experienced and reliable SEO company in Fort Collins, CO? Look no further than our team at Everyday Media Group. We have a proven track record of helping businesses in Fort Collins and the surrounding areas improve their online presence and drive more traffic to their websites. Our team of experts specializes in all aspects of SEO, including keyword research, on-page optimization, link building, and analytics. We will work closely with you to understand your business goals and tailor our services to meet your specific needs.
SEO Services in Fort Collins, CO
At Everyday Media Group, we offer a wide range of SEO services to help businesses in Fort Collins and the surrounding areas improve their online visibility and drive more traffic to their websites. Some of our most popular services include:
-Keyword research: We will help you identify the most relevant and profitable keywords for your business and optimize your website for those keywords.
-On-page optimization: We will optimize your website's content, meta tags, and images to ensure that it is search engine friendly.
-Link building: We will work to build high-quality backlinks to your website, which can help improve your search engine rankings.
-Analytics: We will track your website's performance and provide you with detailed reports on your traffic, conversions, and other key metrics.
Benefits of Hiring a Professional SEO Company
There are many benefits to hiring a professional SEO company to help improve your online visibility. Some of the most significant benefits include:
-Expertise: A professional SEO company has the expertise and experience necessary to identify the most profitable keywords and optimize your website for those keywords.
-Time-saving: SEO can be a time-consuming process, and hiring a professional company can save you time and allow you to focus on other aspects of your business.
-ROI: A professional SEO company can help you achieve a higher return on investment (ROI) by driving more traffic to your website and increasing conversions.
-Competitive Edge: With a professional SEO company, your business will gain a competitive edge over your competitors in your local market.
What Makes an SEO Company Stand Out?
At Everyday Media Group, we believe that what sets us apart as an SEO company is our unique approach to search engine optimization. We go beyond just implementing basic SEO tactics and instead focus on creating comprehensive strategies tailored to each client's specific needs. Our team of experienced SEO specialists conducts in-depth keyword research, competitor analysis, and website audits to identify opportunities for improvement. We also prioritize staying up-to-date with the latest SEO trends and algorithm updates to ensure our clients' websites are optimized for success. With our data-driven approach, transparent communication, and dedication to achieving tangible results, we stand out as an SEO company that delivers exceptional value to our clients.
SEO Vs. PPC
When it comes to digital marketing strategies, the ongoing debate between whether to focus resources on SEO and PPC (Pay-Per-Click) is a common one. We understand that both SEO and PPC have their unique advantages and can complement each other in a well-rounded digital marketing campaign. SEO is a long-term strategy that focuses on improving organic search rankings and driving sustained, targeted traffic to a website. On the other hand, PPC offers immediate visibility and can generate quick results through paid advertisements on search engines. Our approach involves carefully assessing our clients' goals, budget, and target audience to determine the right mix of SEO and PPC strategies. We believe that a strategic combination of both can lead to a holistic and effective digital marketing approach that maximizes ROI and helps our clients achieve their business objectives.
About Fort Collins, CO
Fort Collins is a city located in northern Colorado, United States. With a population of over 160,000 people, it is the fourth most populous city in the state. Fort Collins is known for its beautiful natural surroundings, including the Rocky Mountains and Horsetooth Reservoir. The city is also home to Colorado State University, which is one of the largest universities in the state. Fort Collins is a popular destination for outdoor enthusiasts, with many opportunities for hiking, biking, and skiing in the nearby mountains. The city also has a thriving downtown area with many shops, restaurants, and cultural attractions.
Grow Your Business in Fort Collins
As a digital marketing company with a deep understanding of the local marketing, we are well-equipped to help businesses in Fort Collins grow. Our team has extensive experience in working with businesses in the Greater Colorado area, and we understand the unique challenges and opportunities that local businesses face. From optimizing websites for local search results to creating targeted content that resonates with the local audience, we tailor our strategies to cater to the specific needs of our client businesses in Fort Collins. Our expertise in local SEO, pay-per-click advertising, social media marketing, and other digital marketing tactics allows us to create customized campaigns that drive traffic, increase visibility, and generate leads for businesses in Fort Collins. Partnering with us means gaining a trusted ally that is dedicated to helping your business thrive in the competitive local market of Fort Collins.
Why Everyday Media Group?
Why choose us for your search engine optimization service in Fort Collins, CO? Because we will work with you to develop an individualized plan to help you reach your marketing goals. By getting your business in front of customers searching for your product or service, we can help your company perpetually gain traction in online spaces and grow your business. Give us a call or reach out online to find out more.