How to Claim a Business on Google (If You Don't Have an Address)
Published at November 5, 2021
Category: GMB
Due to COVID-19, businesses have increasingly found themselves moving to remote work for their employees. For small businesses where the overhead of a lease is no longer necessary, it can be confusing to know what to do when attempting to build a local presence on Google.
Below, I share my personal experience in this space, and some of the pitfalls you may encounter when trying to verify a Google My Business listing with Google without a physical location that you would like to publicly advertise.
Why do I need a Google My Business listing?
According to data from Moz, 44% of the engagement on a given set of local Google Search results happens in what marketers call the 'map pack':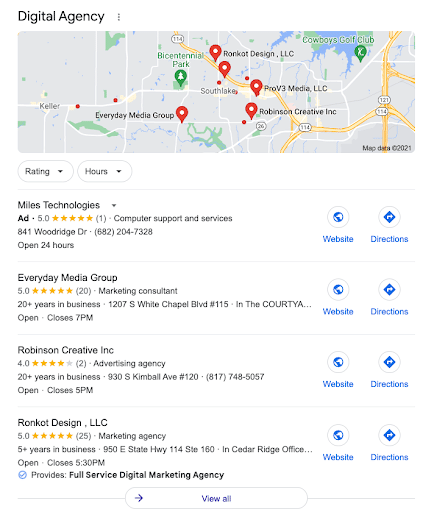 To appear in the map pack, you need to register for a Google My Business profile. Everyday Media Group can help you do this, but if you're feeling adventurous, you can sign up. You'll be asked for the information for your business, including the business' name, address, and telephone number.
I'm working out of my house. I don't want my address to be displayed on Google. What should I do?
Fortunately, Google provides an optional feature called the 'service area' which allows you to hide your address and define the geographic area that your business serves. You'll still need to provide Google with your address, but the address will not be publicly displayed.
Why do I need to give Google my address?
Due to the SPAM that Google is combating in Google My Business, Google still needs to verify your business exists, that it's where you say it is, and that you actually own that location. They often do this via a postcard which they will mail to your location. The postcard will contain a PIN that you can use to verify your Google My Business profile. Successfully receiving the postcard indicates to Google that your location is real.
Can't I just use a PO Box?
Not for the purposes of Google My Business. I've found that Google eventually detects PO Boxes and suspends the profile. It's much better to use your residence than to use a PO Box if you want to keep the profile verified.
I've submitted multiple times for a postcard, but no postcard has arrived.
This sometimes happens if Google doubts the reality of your location. I've noticed this happens more frequently in spaces that Google is cautious about (bail bonds, real estate investment, loans, etc) and that sometimes the postcards just aren't sent at all.
What do I do when I can't seem to get them to send me a postcard?
If you don't receive a postcard after multiple attempts, you can try opening a ticket with Google My Business support.
Google will typically respond and ask you to provide some form of documentation of your address to verify that the business is real. This could include your business registration, business license, or even a utility bill.
Once you've sent the documentation, Google typically gets back to you within a week or so, so don't be afraid to wait or to follow up.
What if I don't want to deal with this?
Everyday Media Group can help you claim and verify your Google My Business profile. We've worked with businesses in many different verticals all over the United States, and we know what it takes to get your profile live.
Contact us to learn how to get your Google My Business profile published.