Digital Marketing for Your Small-to-Medium-Sized Business
When you have a solid online presence with effective digital marketing and an efficient website, your Dallas business will have more opportunities to grow and thrive. We understand internet marketing at Everyday Media Group. We gather data about innovative techniques and technologies through numerous case studies each year. This allows us to better serve the needs of our clients.
Through interpretation of this data, we can provide quality lead generation for your business. You can stop guessing about how to find an audience for your services, and you can stop wasting money on services that are not personalized. By learning about your business and your goals, we can create a plan that will boost your online presence and help you reach more customers. Contact us today for a free audit of your Dallas business' website.
PPC Marketing Experts for the Dallas Area
When managed correctly, pay-per-click campaigns can see a great return on investment. When not managed correctly, they can be a waste of money. Our team knows how to place your business in front of potential customers in Dallas who are searching for your services or products. We can expertly place your ads on Google, Bing, Yahoo, and more.
SEO can take time to see a turnaround, but a PPC campaign can drive traffic to your website immediately. We will learn about your business and the types of customers you are hoping to attract to build the best campaign for your needs. We understand the market in Dallas. It is ever-changing, and we can modify any PPC campaign when needed. Our team can help you be more visible on major search engines and drive more traffic your way with paid advertising.
Boost Your Organic Presence with Search Engine Optimization
Although search engine optimization does take some time to see some turnaround, it is totally worth investing in. We can assist you in creating a customized SEO strategy that is based on the needs of your Dallas company. When you use unique keywords that your customers are searching for online in the correct way, you can get your business to rank better in search engines. The higher your company ranks, the more likely someone is to click on your company's website.
Most people do not scroll past the first page of search engine results, so the goal is to get you as far up in the search rankings as possible. Search engine optimization can bring customers to you organically. When working to improve SEO for your Dallas business, we look at local listings and evaluate ways to fit you in. We also look at backlinks, duplicate content, blog titles, your SSL certificate, title tags, relevant keywords, website speed, and more. SEO can be a tricky thing to fully understand. By working with professionals, your strategies will be as effective as possible.
Industries We Serve
We can create a strategy for nearly any business in Dallas. We have worked with many different industries, including HVAC professionals, plumbers, roofers, and real estate investors. If you serve one of these industries, or you have any other business in the Dallas area, we would be happy to evaluate your site and see how we can help you get more traffic.
Our Experience in Dallas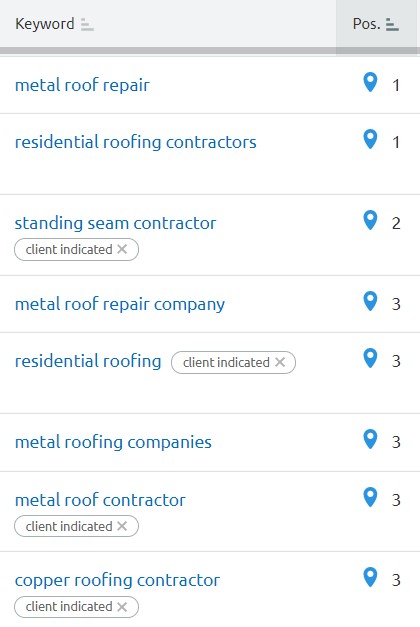 Our clients in Dallas include a roofer, a sheet metal company, and a personal injury lawyer.
Dallas is a large city and a highly competitive market for roofers. We took on a roofing client about a year ago that had mediocre showings in the city. This roofing client specializes in metal roofing.
In the time we've had the client, we've launched them into the top 3 of the local map pack for a number of highly-valuable keywords for the client: "metal roof repair," "residential roofing contractors," "standing seam contractor," "metal roof repair company," "residential roofing," "metal roofing companies," "metal roof contractor," and "copper roofing contractor." The client is also in the top 10 rankings for 6 other highly valuable keywords.
The same client also has a sheet metal company that was similarly showing mediocre results at the start of the year. This website now has 12 keywords ranking in the 1-3 range and 9 others in the 4-10 range.
We also have a client that specializes in personal injury law for victims of bicycle accidents. We have propelled this client to the top of the search results for several important keywords relating to their niche industry. They appear in the number 1 position in the local map pack for 7 keywords, and in the 2-10 positions for 5 others. As an attorney that serves the entire state, we have also gained them rankings throughout Texas.
Contact Us for a Website Audit
Get in touch with the team at Everyday Media Group today for a free consultation. This includes a preliminary SEO audit that will give us a place to start when creating a plan of action for your website. If you want your Dallas business to be successful, a well-thought-out online presence is extremely important. Let us help your business be as successful as it can be.