PPC Company in Portland, OR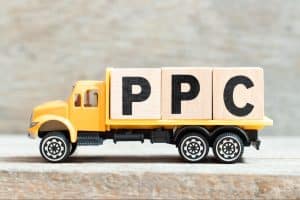 It is critical for you to take a diverse approach to digital marketing if you want to generate consistent results for your Portland, Oregon business. We are Everyday Media Group, and we have a variety of digital marketing tools that we can use to help you. One of the most important tools that we have at our disposal is pay-per-click marketing.
This is usually shortened to PPC, and this is a great way to drive more traffic to your website quickly. Learn more about the PPC services that we offer, and give us a call today to get started.
Portland, OR Pay-Per-Click Ad Services
Pay-per-click marketing refers to the practice of positioning advertisements above the top result on certain search results pages. You need to figure out what terms people use when they are looking for products and services that you provided. Then, by running a PPC campaign that focuses on those terms, you can get your website placed at the very top of the page.
You only have to pay for the advertisement when someone clicks on it. Therefore, it is critical to focus on the quality of the landing page attached to that advertisement. That way, you can maximize your conversion rate and drive a consistent return on your investment.
Leverage PPC Marketing To Get Your Website Found by Portland Locals
There are a lot of reasons why you should use PPC marketing as a component of your digital advertising campaign if you want your business to get noticed in Portland. Some of the biggest benefits of running a PPC campaign include:
It is one of the fastest ways for you to get your name out there.
You only have to pay for the advertisement if someone clicks on it.
You get access to the objective metrics that you can use to see how your PPC campaign is going, allowing you to identify the most important keywords and phrases for your business.
A PPC campaign is a significant investment, which is why you need to work with professionals who can help you.
Why Choose Everyday Media Group?
At Everyday Media Group, it would be our pleasure to help you run a strong PPC marketing campaign. Some of the reasons why you should work with us include:
We have plenty of experience running PPC campaigns of all sizes.
We can help you not only position your advertisements but also design landing pages that can maximize your conversion rate.
We will keep you updated every step of the way, making sure that you are getting the results you deserve.
You need to work with the experts at Everyday Media Group if you want to get the most out of your PPC marketing campaign.
Contact Everyday Media Group for the Best PPC Services in Portland, OR
At Everyday Media Group, we are always available to help you with your PPC marketing needs. A member of our team would be happy to get the process started, and it would be our pleasure to show you what a strong PPC marketing campaign can do. Contact us today to speak to our team!